06/02/2023 - 06/11/2023
$20 GA
36 Church Street, Middletown NJ 07748
Dunbar Repertory Company presents August Wilson's Jitney, directed by Darrell Lawrence Willis, Sr. Set in the early 1970s, this richly textured play follows a group of men trying to eke out a living by driving unlicensed cabs, or jitneys, in the black neighborhood of Pittsburgh's Hill District. Jitney is the seventh in the Pulitzer-prize-winning playwright's ten-play cycle (collectively called The American Century Cycle or The Pittsburgh Cycle) on the black experience in twentieth-century America.
SHOW DATES FOR JITNEY
Fri, June 2 at 8 p.m. | Sat, June 3 at 3 p.m. and 8 p.m. | Sun, June 4 at 4 p.m. 
Fri, June 9 at 8 p.m. | Sat, June 10 at 3 p.m. and 8 p.m. | Sun, June 11 at 4 p.m. 
Call MAC Box Office for Tickets: 732.706.4100
ABOUT JITNEY
Set in an unofficial taxi station threatened with demolition in 1977, Jitney explores the lives and relationships of drivers, highlighting conflicts between generations and different concepts of legacy and identity. When the city of Pittsburgh threatens to board up the gypsy cab business and the boss' son returns from prison, tempers flare, potent secrets are revealed and the fragile threads binding these people together may come undone at last. A thoroughly revised version of a play Wilson first wrote in 1979, Jitney was produced in New York for the first time in spring 2000, winning rave reviews and the accolade of the New York Drama Critics Circle as the best play of the year.
Jitney's cast includes Collin Roach (Youngblood), Jo Leo Carney Waterton (Turnbo), Larry Calhoun (Fielding), Bellamy Shivers (Doub), Joseph Taylor (Shealy), Kirk Lambert (Philmore), Arthur Gregory Pugh (Becker), Damien S. Berger (Booster) and Dani Richards (Rena). The crew includes Stephanie Schoppe (Production Stage Manager) and Mark Antonio Henderson (Associate Artistic Director).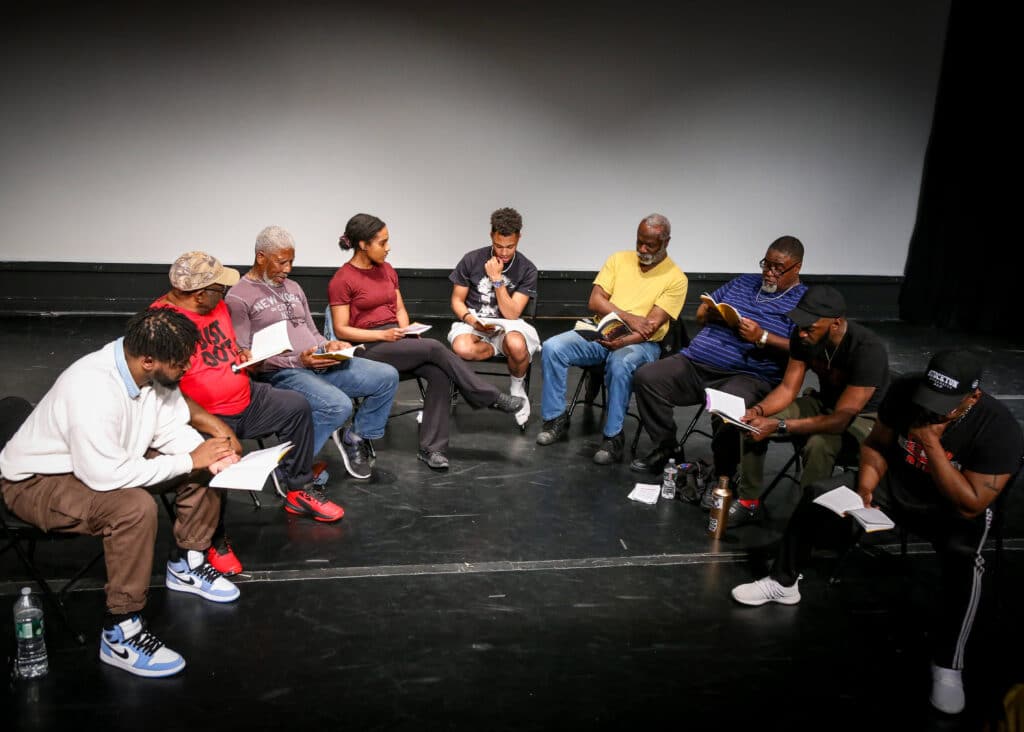 ABOUT AUGUST WILSON
"No one except perhaps Eugene O'Neill or Tennessee Williams has aimed so high and achieved so much in the American theater." – John Lahr, The New Yorker
August Wilson (1945 – 2005) was a Pulitzer-prize-winning playwright known for chronicling the experiences of Black Americans during the 20th century. First, through poetry and then through plays, Wilson captured the character and experiences of the African American community, particularly the community of his native Pittsburgh. He is best known for a series of ten plays collectively called The American Century Cycle or The Pittsburgh Cycle which include, Jitney (1982), Fences (1984), Ma Rainey's Black Bottom (1984), Joe Turner's Come and Gone (1986), The Piano Lesson (1987) and King Hedley II (1999). Wilson received the Pulitzer Prize for Drama for Fences and The Piano Lesson, and earned nine Tony Award nominations, winning Best Play for 1987 for Fences. All of his plays have received the New York Drama Critics Circle Award for Best Play.
In 2006, Wilson was inducted into the American Theater Hall of Fame. He was a member of the American Academy of Arts and Sciences and the American Academy of Arts and Letters, the recipient of Rockefeller and Guggenheim Fellowships, the Whiting Writers Award, the 1999 National Humanities Medal awarded by the President and numerous honorary degrees.
One of contemporary theater's most distinguished and eloquent voices, August Wilson wrote not about historical events or the pathologies of the black community, but, as he said, about "the unique particulars of black culture…I wanted to place this culture onstage in all its richness and fullness and to demonstrate its ability to sustain us…through profound moments in our history in which the larger society has thought less of us than we have thought of ourselves."
ABOUT THE DUNBAR REPERTORY COMPANY
Known to residents of Central New Jersey as "Monmouth County's African American Theater Company", Dunbar Repertory Company is committed to its mission of perpetuating an appreciation of cultural diversity and celebrating African American culture through LIVE literary readings, main stage theatrical productions, education programs and services.